Back to News
Translating learning into real life: Strategic Feat simulation
Up Next…

Lynda Gratton named as one of LinkedIn's Top Voices UK for 2018
News
A team at Randstad, Netherlands recently ran our Strategic Feat simulation and were impressed with the results. In particular, the Managing Director commented that "The key learnings were translated into real live projects."
---
That's the real value of simulations
---
Simulations enable individuals to put their skills into practice and gain real-time feedback. The Strategic Feat simulation is focused on execution. In today's complex world of constant change, business managers need to be able to transform a business strategy into successful results. The Strategic Feat simulation provides participants with an engaging and practical experience of implementing a major strategic initiative. No strategy, however innovative, inspiring or intelligent, has value unless it is executed successfully.
---
Internal facilitation, with virtual support
---
In this case, the team at Randstad ran the Strategic Feat simulation themselves. The manager running the simulation was initially a participant in a London Business School programme where he used our simulation virtually. Robbin was so impressed with the impact of the simulation that he wanted to use it with his own team.
We supported Robbin virtually, providing our facilitator materials and talking through the session objectives and how to run the simulation. As a result, he was able to successfully run the session with his team and they all benefitted from the unique learning experience.
---
"The Strategic Feat simulation which I ran with my Global Business Concept Development Team went very well.

The key learnings were translated into real live projects.

It surely helped to create more awareness about the importance of long-term value strategy and stakeholder management."
– Robbin Brugman, Managing Director, Global Business Concept Development, Randstad N.V
---
Strategic Feat is an off-the-shelf product, designed to run either face-to-face or online. It can be delivered via the internet or installed locally and facilitated by ourselves, our partners or our clients themselves.
To find out more about the simulation and how it works you can watch our introductory video or contact us on +44 (0)1223 421 034 or email info@ososim.com.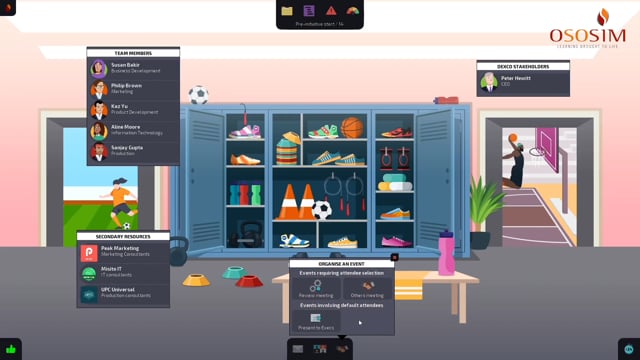 Play Video